---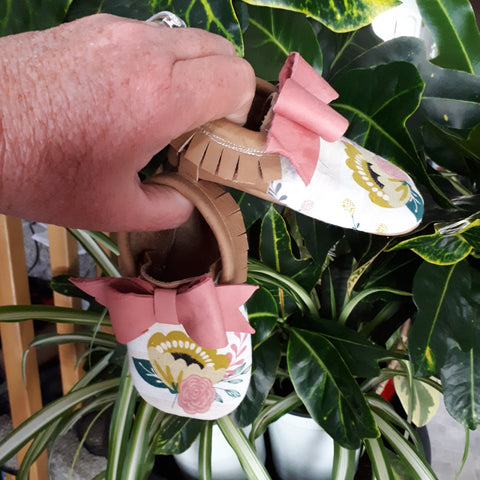 Deerhide tan leather moccs with short fringe(0-6m SALE! )and unique floral toe toppers.
---
These little moccs are made from deerhide tan leather with short fringe and unique floral toe toppers.  Elastic at the ankles ensures that they stay on your little ones, from newborns to walkers.
Little Yeti Shoes are lovingly handmade using real leather. They have soft soles, which are gentle on baby's feet and perfect to toddle around in.
Sizes are in inches. To measure baby's foot, trace from heel to toe on a piece of paper then measure with measuring tape. Add 1/4" to 1/2" for wiggle room.
Shoes are made to order. Allow 2-3 weeks for shipping.  Limited qualities available.
---
More from this collection